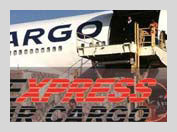 Express Air Cargo is the first flight air cargo company in Tunisia. It addresses customers' needs in two continents: Africa and Europe. Its major aim is to deliver quality services and strengthen the customer experience by providing different offers. Express Air Company facilitates also the import-export operations with respect to time constraints.
Express Air Cargo's experts raised the challenge by launching the new project that widens the bridge between 51 African countries and the main European cities.
13th January 2017 marked the delivery of the first Boeing 737-300 at Carthage Airport Tunisia. Boeing 737-300 is registered under TS-ICA and is brought from Vilnius, Lithuania. After Maintenance, the first flight-test was successful. However, the plane is going to be used for pilots' qualifications until its first official inaugural flight in March 2017. The second plane delivery will be done in the upcoming weeks.
Its first destinations will be Paris, Koln, and Malta. It should be noted that the network will be extended to reach the Sub-Saharan Africa and the Central of Africa.
Express Air Cargo's uniqueness to deliver qualitative customers experiences reduces distances throughout Africa and Europe. The delivery of Boeing 737-300 will improve the daily scheduled services namely heavy cargo and live animals and any type of cargo that requires special handling or care.