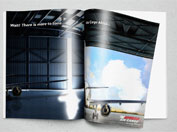 Tunis – January 9th 2018. Express Air cargo, Tunisian air cargo leader, is launching this January 2018, from the airport and logistics hub of Tunis Carthage, 25 new all cargo airlines, mainly to Africa and to the Middle East. Thus, 21 services will cover a wide range of countries in Central and West Africa. Three other new lines will also be put into service as of this month to cover Egypt, Jordan and Lebanon. They are added to the three daily services that have been connecting ever since February 2017, Tunis to France, Germany and Malta, as a total of 25 destinations. In addition, the company is planning to build its own freight store, on 3000 m2 in Tunis-Carthage and inaugurate a Boeing certified maintenance center for African airlines.
Speaking at a press conference held Tuesday morning in Tunis, Express Cargo CEO Anis Riahi underlined that "We owe this development to the support of the Tunisian aviation authorities and to the countries of destination, to the confidence of our customers and to the historical and strategic bonds that unite us with our partner UPS, on the one hand, and with our aircraft manufacturer, Boeing, on the other. The 25 new all cargo airlines from Tunis were established as a part of new measures to support the export of Tunisian products and trade with the countries served, which will be operational by the end of this month. They are supporting an inter-African logistics network and are strengthening the delivery of parcels to and from European countries".
From hub-to-hub
"Designed in hub-to-hub link mode, said Mr. Riahi, the implemented system will benefit from a line, for the main destinations, with a large aircraft Boeing 737-400, distinguished by a capacity of 26 tons that will be relayed by small carriers for the other stations. To ensure this traffic, four new aircrafts will strengthen our fleet during the first half of 2018. A Boeing 737-400 will be deployed from Tunis by the end of January and will make a daily flight to the airports of Central and Western Africa. The other three planes will be based, one in Douala Cameroon, and the other two in Guinea Conakry. From Douala, it'll involve connecting Gabon, Equatorial Guinea, Congo DRC and Brazzaville. As from Guinea Conakry, our planes will cover all the countries of Western Africa".
A reinforced air fleet
In total, the fleet of Express Cargo will include no less than 7 aircrafts in lines this year and will reach 14 aircrafts by 2021, indicated Anis Riahi. "Express Air Cargo thus contributes into making the Tunis-Carthage airport a true hub establishing a bridge between Africa and Europe, but also, the Middle East. This triangularization of all cargo Europe-Africa-Middle East, with Tunis for hub, will be a valuable asset for economic development and trade."
A 3000 m2 cargo store under construction in Tunis Carthage
The CEO of Express Air Cargo also announced the imminent start of the construction work within the airport and logistics hub of Tunis-Carthage; a 3000 m² cargo store, compliant with international standards and to be certified CEIV for pharmaceutical products. The investment of 6 MD will create 120 direct jobs during the year 2018.
Boeing Certified Maintenance Center soon to be operational
Referring to the project of the implementation of a Boeing certified maintenance and training center in Tunis, signed with the American aircraft manufacturer last July during the visit of the head of government to Washington DC, Anis Riahi indicated that preparations for the opening of this center in 2018 are intensively advancing. A first group of 30 engineers got already hired and placed in training. With a total investment of 90 million dinars, this center will take on 400 engineers in aeronautics.
Sustainable growth
Express Air Cargo investments had reached so far 52 million dinars and a workforce of 350 executives and agents. In 2017, the company had overall loaded around 4 thousand tons. For the period of 2018-2019, its investments will increase up to 70 million dinars and its workforce will reach 550 employees.
Express Air Cargo in brief
25 all cargo flights from Tunis
A fleet of 7 aircrafts in 2018 and will reach up to 14 by 2021
A 3000 m2 freight store under construction in the Tunis-Carthage airport and logistics hub
A Boeing Certified Maintenance Center soon to be operational
52MD investments and 350 executives hired in 2016-2017
70MD and 550 managers in 2018-2019
Load transported: approximately 4, 000,000 kg
Regular air services
Europe
France
Germany
Malta
North Africa
Morocco
Algeria
West and Central Africa
Benin
Burkina Faso
Cameroun
Cape Verde
Central africa
Congo Brazzaville
Congo DRC
Ivory Coast
Gabon
Gambia
Ghana
Equatorial Guinea
Guinea Bissau
Guinea Conakry
Liberia
Mali
Niger
Senegal
Sierra Leone
Tchad
Togo
Middle East
Egypt
Jordan
Lebanon
Press contacts
Express Air Cargo
Nadia BEDISS
Marketing & Business Development Manager
Tél : +216 71 94 11 11 Fax : +216 71 94 11 22
Mobile : +216 29 568 000